Blog

/
New Perspectives on Turkey
If you think about a vacation in Turkey over here, the first thing that comes to one's mind is a 5-star hotel, a big swimming pool with lots of slides and an all-inclusive buffet. During our last trip in Istanbul we discovered a very different side of Turkey. In this article I would like to share interesting places beyond the famous tourist attractions.
Istanbul #
First impression #
Already the bus ride from the Sabiha Gokcen International Airport to the city district Kadıköy showed me that the city is vibrant and with many contrasts. The cityscape is one aspect where you can notice the contradiction. It was fascinating to discover cities in cities. On the way I've seen districts which had the visual appearance of a small town, next to others with only office buildings and skyscrapers, or mosques close to churches. The liveliness of Istanbul was a further overwhelming aspect. You notice the over 15 million residents not only at the huge traffic jams but also at the crowded restaurants. Food and drinks are served until late at night. It was easy for us to find a good restaurant ( Kilisli Fiko ) at 1 AM once we did the check-in at the hostel.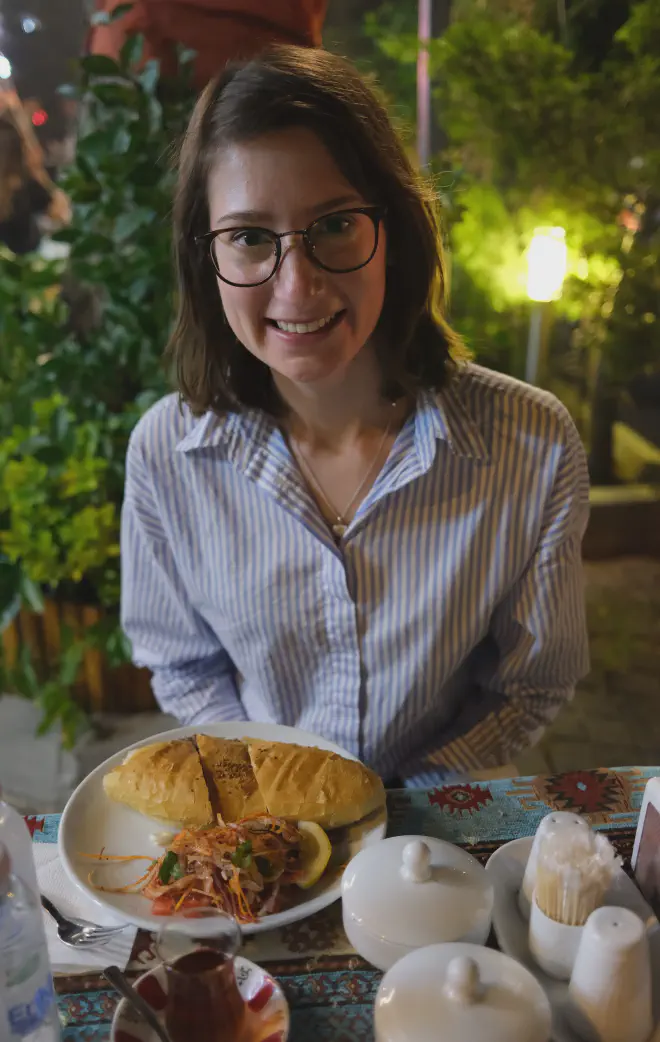 After the midnight snack we decided to look for a shop to get some water, since the tap water is not drinkable. This plan is again a great example of inconsistency in Istanbul: According to the opening hours of the shop were we went to, it should be already closed. However, the reality showed that it is absolutely normal to keep the shop open as long as there are customers.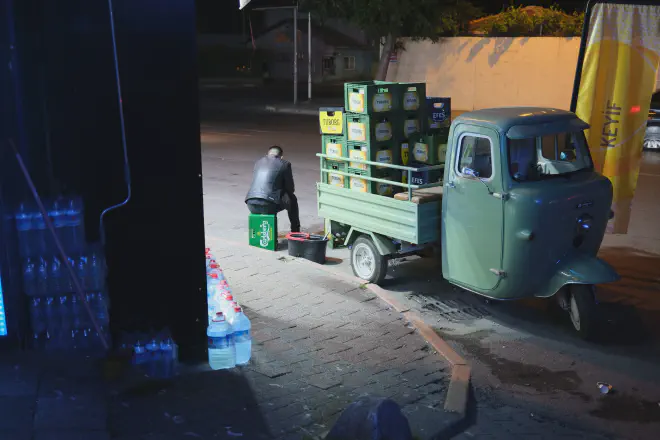 Culture #
The first days we asked ourselves why the locals put cut up bottles at every corner of the buildings. They were usually filled with watter. There are the more than 300 000 four-footed inhabitants. The reason is the lack of possibilities for dogs and cats living on the street to find something to drink. That shows how much the people care about the animals.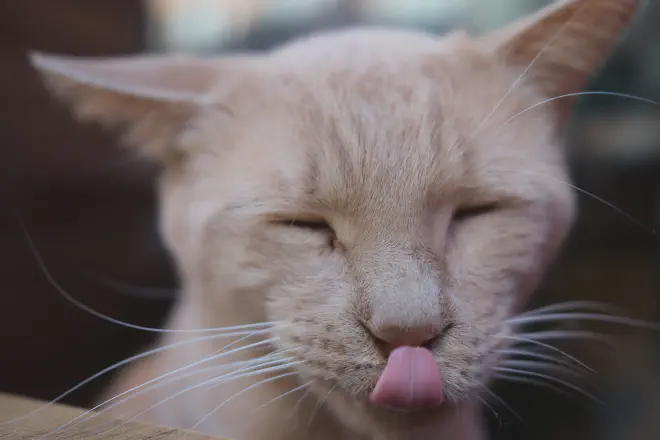 I had the feeling that in Istanbul the life takes place mostly outdoors (maybe this is only the case in summer). The parks were heavily used to meet friends or have a picnic with the family. Restaurants had usually a lot of space outdoors to eat, drink tea or turkish coffee or to play games. We even saw fishers at the Galata Bridge catching fish and selling it right away.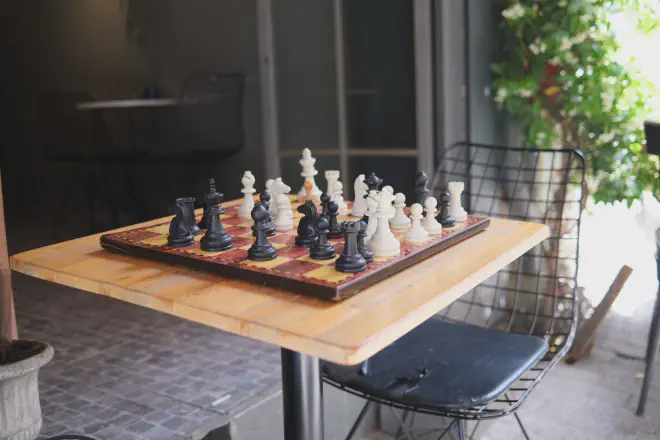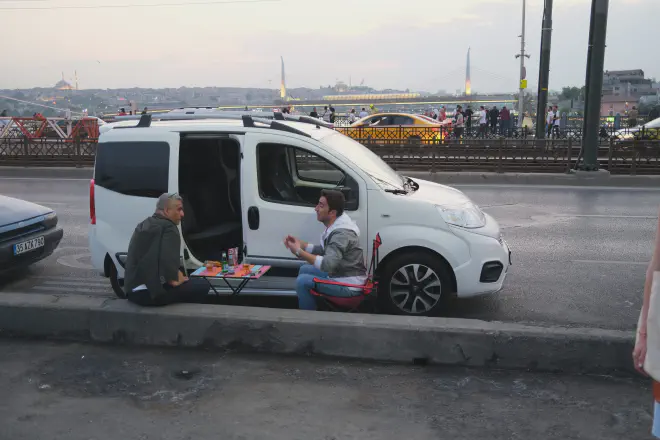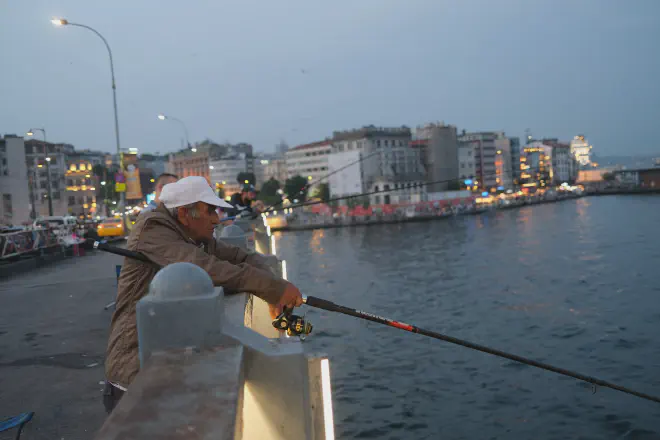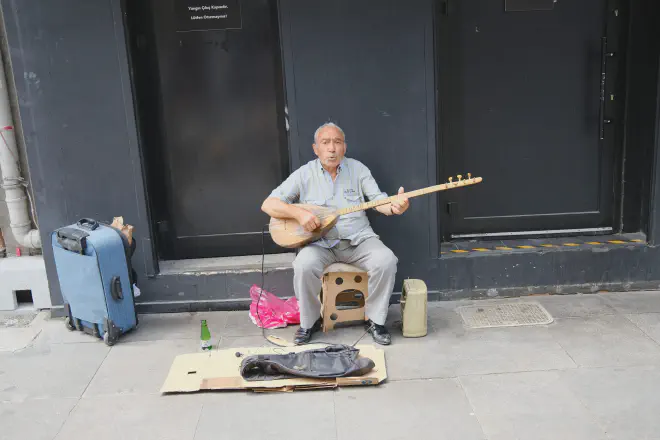 We've observed that the locals very friendly and helpful. In situations where communication with hands and feet was not enough, the people got creative. They asked the owners of the neighboring shops to translate or were even calling their relatives to handle the communication. This welcoming behavior was a big contribution to the great vacation.
City districts #
We mainly visited Kadıköy, Karaköy and Sultanahmet. Kadıköy is in the Asian part of Istanbul, Karaköy and Sultanahmet are on the european side.
Kadıköy #
If you like to get in touch with the locals, you should visit or even better stay in Kadıköy. You will find there a lot of small and traditional bakeries, baklava shops, bars, restaurants and small markets. Just walking down the street Karakolhane and observing the surrounding is a joy.
One morning we went to a bakery to get some freshly baked sweets. There the baker invited us to learn how to prepare the bread. He also gave us a bread to hold it in the hand to take a photo. He was super happy once we took also a photo together with him.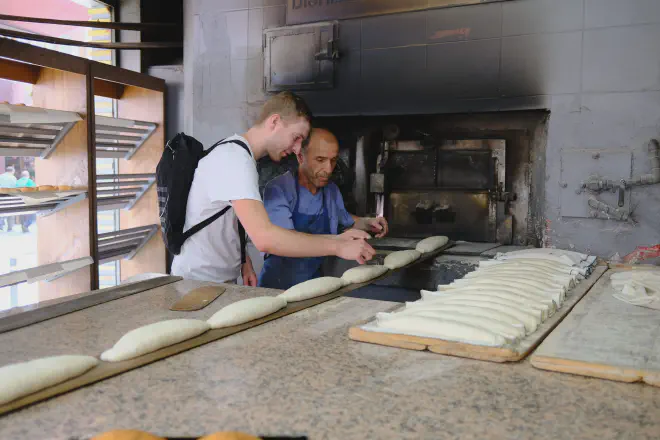 In general, we enjoyed to walk around in Kadıköy without any direct destination. If you just find a path from the Haydarpasa Train Station to the Moda Coastal Park, you will find a lot of great corners. On the way you can get freshly pressed juice or sit down to enjoy a turkish tea. Another idea is to just hop on the nostalgia Kadıköy-Moda tram and do the round tour.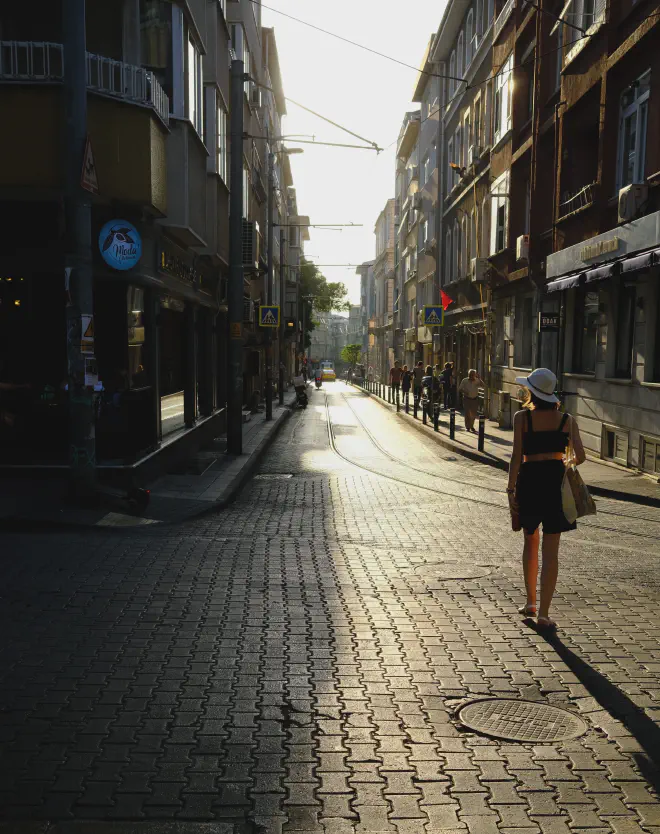 Karaköy #
As a visitor, I would say Karaköy is a mixture of Sultanahmet and Kadıköy. My impression was that there were not too many tourists (especially if you go a bit more to the north) in comparison to Sultanahmet. A great walk can start at the Galata Bridge to the Galata Tower and then up İstiklal street to the Taksim Mosque. It's always quite nice to keep the eyes open and check out smaller streets from the İstiklal street. You can find there good bars, restaurants and interesting markets.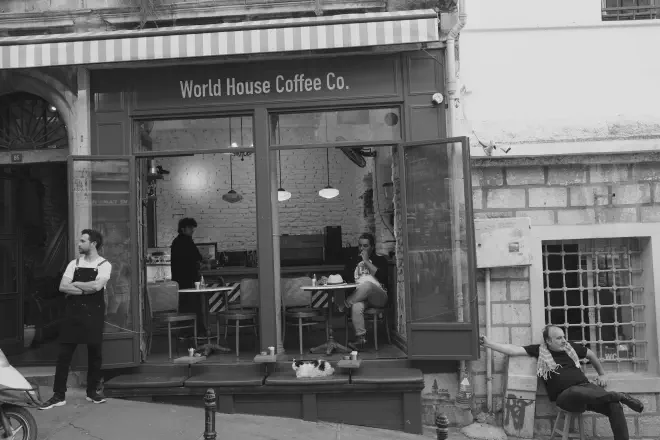 Sultanahmet #
In Sultanahmet you will find a lot of tourists and the common attractions like Hagia Sophia, Blue Mosque, Sultanahmet Square, Grand Bazaar, Arasta Bazaar and so on.
This district is usually extremely crowded and I personally found it hard to spot a good place to eat. It's definitely worth to visit the Bazaars. If you need a break from the hustle and bustle, it's a great idea to relax in the shadow in the garden of Suleymaniye Mosque.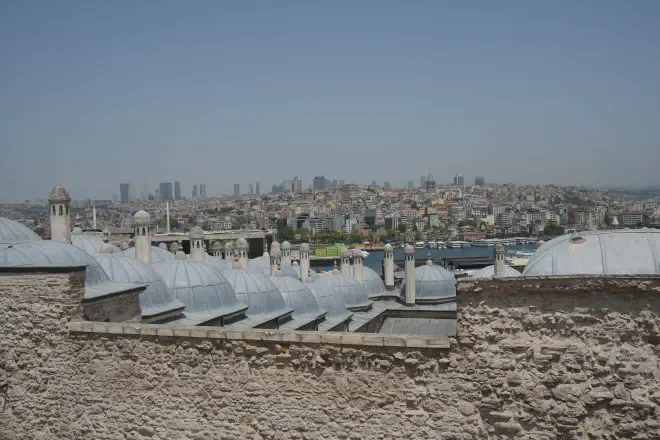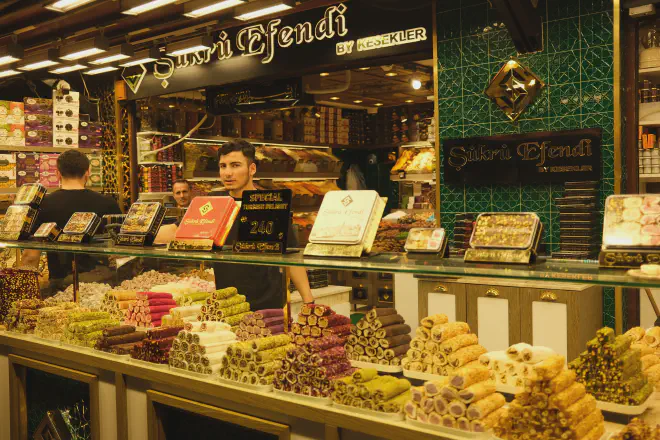 Food #
I went to Istanbul with the expectation that it is the Doner Kebab paradise. Even if you get Doner Kebab here and there, the Turkish cuisine offers much more.
Streetfood #
Talking about Doner Kebab, the dish is there different to the German Doner Kebab because it is without any sauces: bread, meat, some pickles and sometimes some vegetables. That's all. It is also quite common to grill the meat outside on a huge skewer.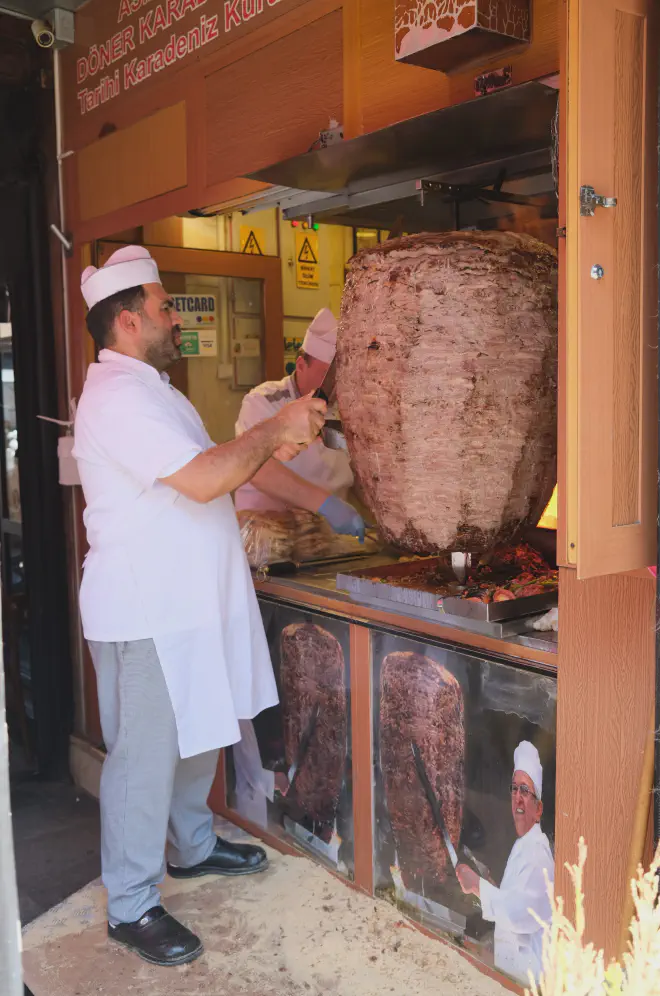 Kumpir was a dish that I liked a lot. It's an oven baked potato filled with toppings. If you order a potato, you can decide to add some butter and/or cheese. It will be mixed so that the inner part is like a mashed potato. Afterwards, you can select the toppings ranging from salad to corn. If you are looking for a good place, I can recommend this one: Kumpir Restaurant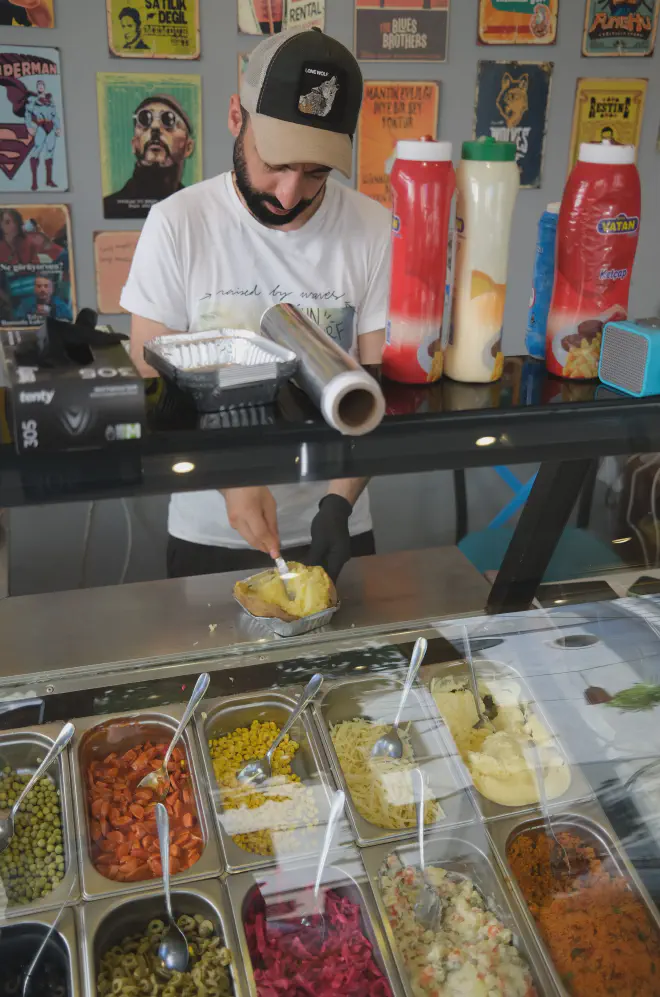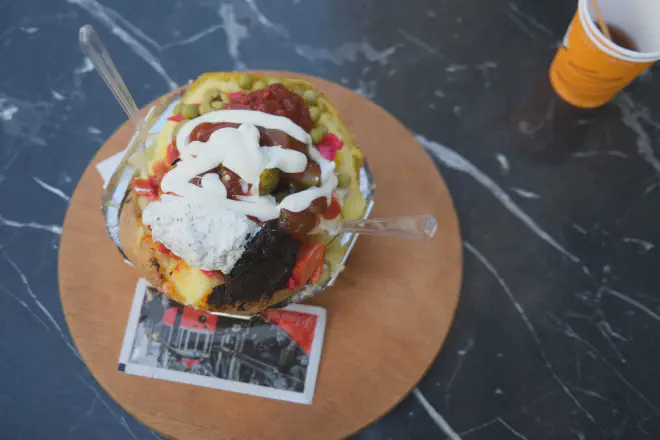 Another, maybe unknown dish in the Turkish cuisine, is a wet hamburger - the Islak burger. You have it often after partying. A spicy tomato sauce, cooked with delicious herbs, is spilled over the burgers. For someone, they might look a bit odd but the first bite in the juicy hamburger will surprise you.
In Istanbul you find a lot of people selling food that they prepare freshly for you on the street. Some catch fish and put it directly on the barbeque, another cook corn and others sell stuffed mussels. In my opinion, you will miss a lot if you don't try the street food. You might be concerned that you can get sick, but in our experience we never had problems. We got food from many small places.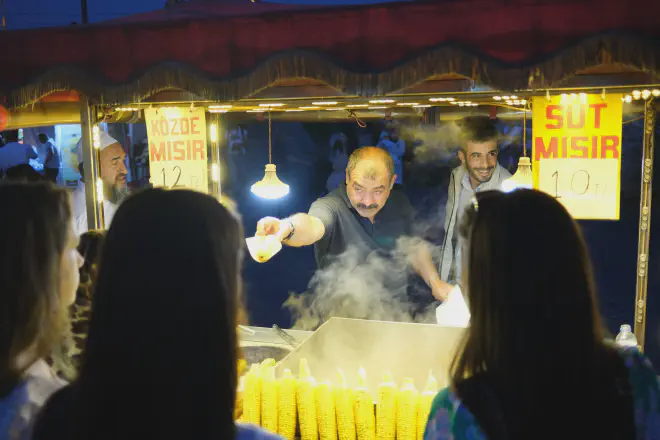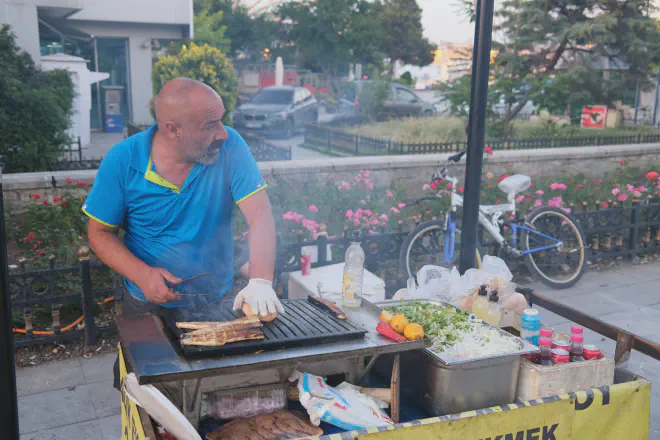 Vibe #
In Kadıköy every café and restaurant looked so different. The interior was unique and inviting to spend some time. Additionally, you had as good as always the chance to pet a cat.
If you like to try different meals, you have often the possibility to do so. It is usually no problem to order just a quarter/half of a portion or ask if you can try a bit of this and that, so you don't have to leave with the feeling that you've missed out something.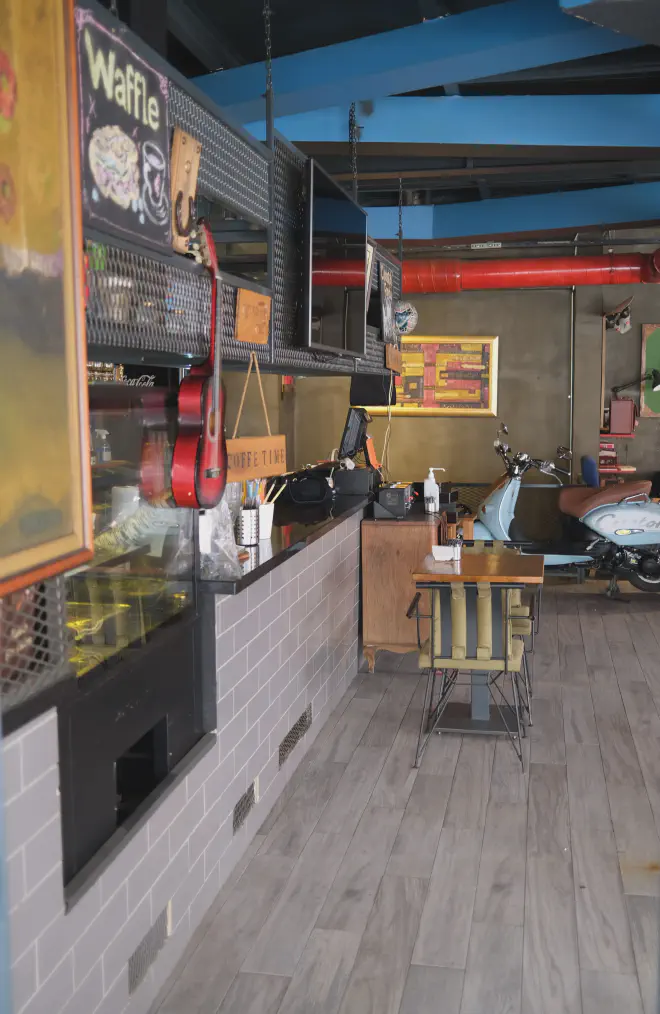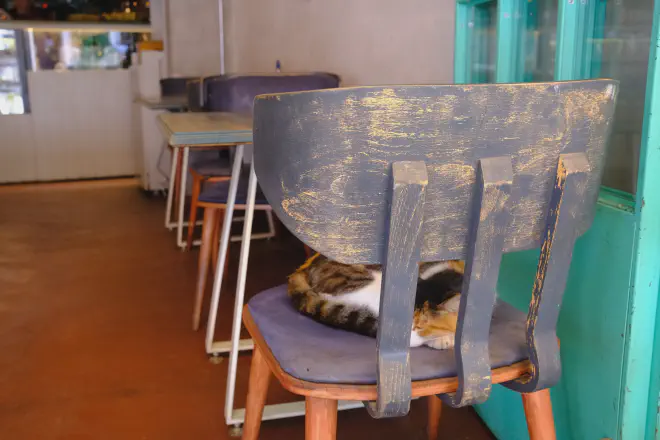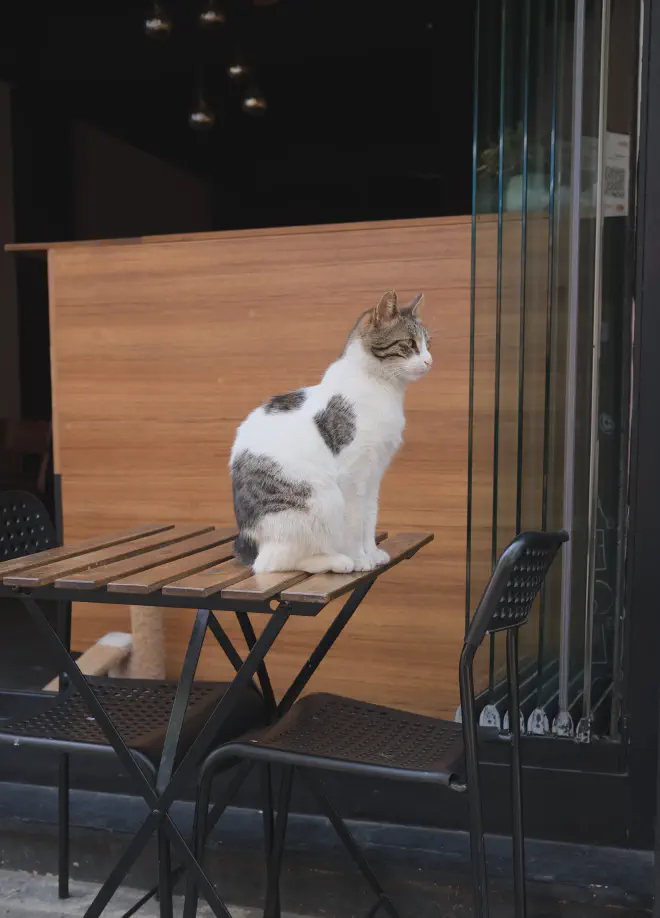 Sweets #
In Turkey you need to be careful that you don't end your vacation with diabetes. In terms of sweets there are endless options you can choose. Our favorite sweet was baklava, to be precise, Soğuk Baklava. In recent times, there is a trend to prepare Baklava in a special way that it contains less sugar and is served with some chocolate powder. The name Soğuk Baklava gives also a hint that the dessert is cold served. Soğuk Baklava translates to cold baklava. This was our favorite place to get baklava: Antepli Beraat Tatli.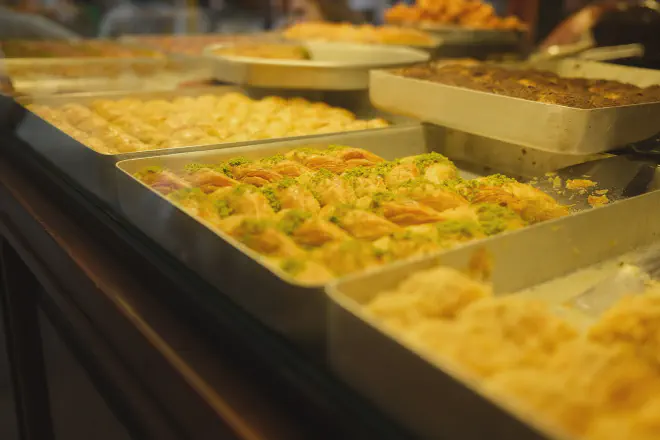 Activities #
If you ask yourself what can you do in Istanbul, I prepared a list of activities/places you can add to the usual tourist attraction list.
Ferries are part of the public transport: Get an Istanbulkart and use the ferries. The card can also be used to get from the Airport to your place with the public transport.
You can also do a Bosphorus tour with the public transport. It's not nessacary to book a tour.
Use the Kadıköy-Moda tram
I encourage you to try the street food and restaurants which do not look perfect from outside. We made the expericne that shiny restaurants are the tourist traps.
Check out some local markets like in the Mühürdar street and Güneşli Bahçe Sok and the Bazaars
Enjoy the sunset in the Moda Coastal Park
Do a walk at the Uskudar Coast Walkway
Visit one of the islands in the south of Istanbul
Get in touch with the locals
I did not add the well-known places since you will probably find them in every other guide.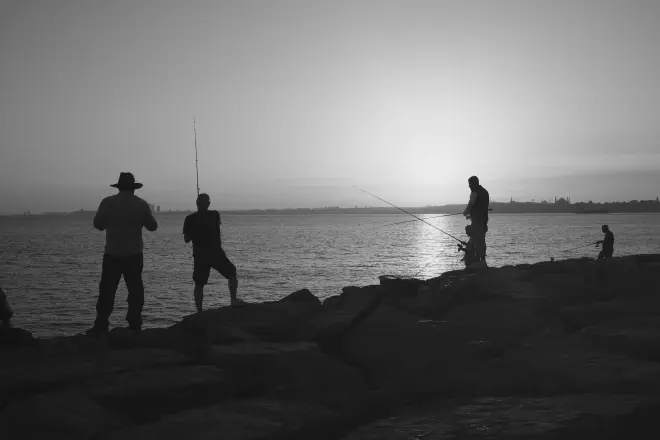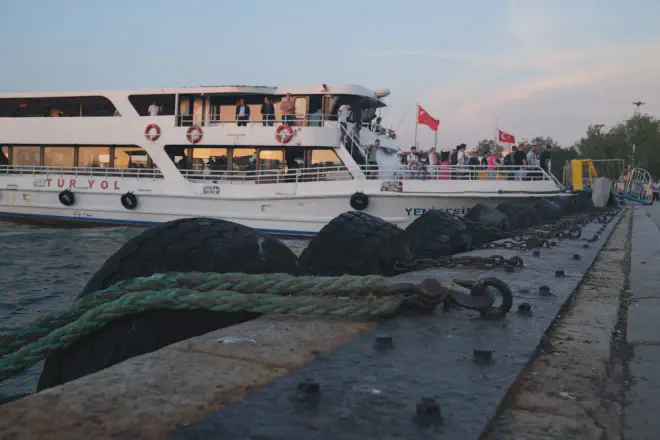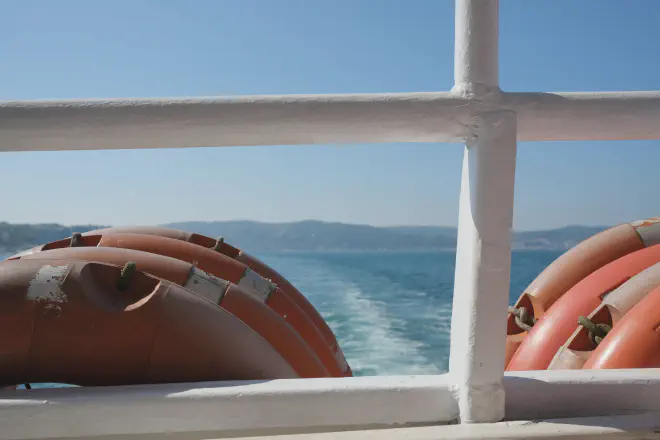 Antalya #
After the first week in Istanbul we went for another week to Antalya. The stay there was quite different to the one in Istanbul. You notice there that almost everything is adapted completely to the tourists. Even at local markets you can often order in your mother tongue. You also have a hard time finding a traditional restaurant where the authentic Turkish taste is still present.
Even this sounds quite negative, we had a great stay in Antalya. We anyhow wanted to have some time to rest, go to the seaside to relax and swim. At the end we still discovered some interesting corners and have also found a family restaurant. The place was more like a living room where 2 ladies cooked directly in front of you. There was no big menu. They just lifted the lid of the pod so that you can select the dish which looks good to you. 3 Lezzet Mantı Cafe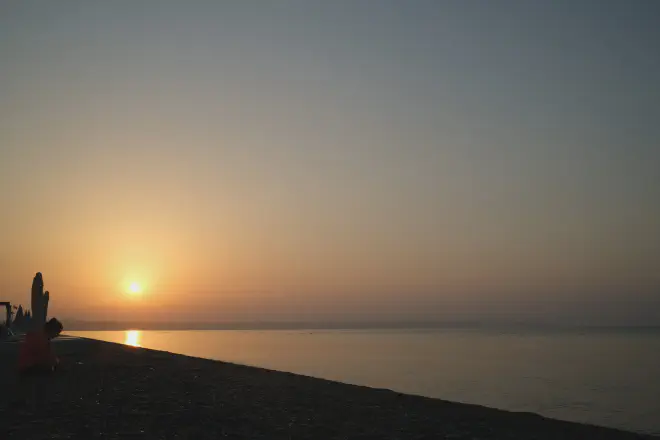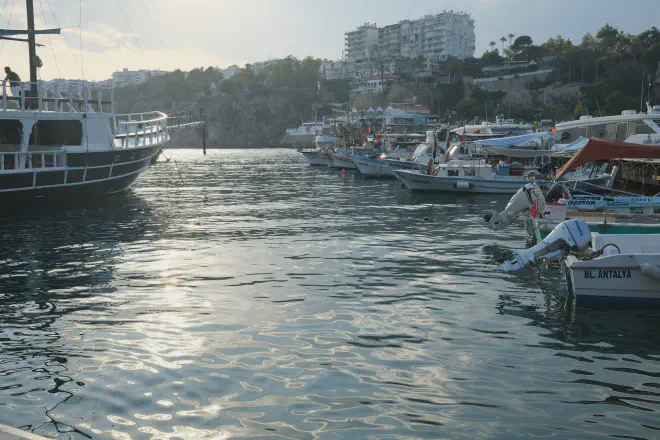 Summary #
In some aspects Istanbul or Antalya reminded me of cities in India. The streets were sometimes a bit dirty with bad smell and waste flying around. The traffic is also immense, chaotic and everyone communicates by using the horn. It was also notable that very poor people are dooing part of the waste management in the city to survive. According to locals, they pick some valuable materials (plastic or carton) of the public trash in order to sell it to factories. The work must be very exhausting because they use a hand truck to transport the materials, and they work in the direct sun.
We had a very pleasant experience in Turkey because it was manifold and with many contrasts. The people as well as the city offered us quite a lot to explore.